Saturday, July 24, 2021, 10:00 -11:30 am

GOLDEN® Virtual Lecture & Demo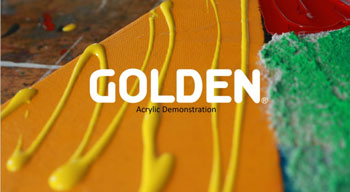 The Northwest Collage Society has teamed with Golden Artist Colors, Inc. to present a virtual lecture by Barbara De Pirro, followed by a NWCS mini-retreat conducted via Zoom.

Barbara's free online event packs in a ton of valuable information about acrylics, guiding listeners through the basics while opening up new possibilities. Participants will learn the unique properties of GOLDEN Fluid Acrylic Colors, Heavy Body Acrylic Colors, OPEN Acrylic Colors, and High Flow Acrylics, and get a comprehensive overview on the many Gels & Mediums and how they can change texture, viscosity, saturation, intensity of color, and more. The lecture includes a review of Grounds that create truly, contemporary surfaces for painting, drawing, and mixed media. An array of examples will be shown, and artists will leave the session enthusiastic to explore the extensive potential of Acrylic. Attendees will have the opportunity to receive free samples mailed directly to them.

More details about the lecture and how to obtain complimentary GOLDEN products will be provided upon registration, and the Zoom link will be emailed by Barbara during the days just prior to the event. The link for the NWCS mini-retreat, which will begin immediately after Barbara's lecture, will be sent to members via a separate email.

Register for the GOLDEN Lecture by Barbara De Pirro at the following site: Sign up for GOLDEN!