Programs and Events for 2019 - 2020
General meeting dates and scheduled programs for 2019 - 2020. Meetings are held at the Shoreline Masonic Center in Shoreline, just north of Seattle.
---
November, 2019

Joe Rudko is a graduate of Western Washington University and has shown broadly in both solo and group exhibitions throughout the Northwest including exhibitions at the Portland Art Museum, PDX Contemporary Art, G. Gibson Gallery, and Greg Kucera Gallery, as well as Von Lintel Gallery (Los Angeles, CA) and Davidson Gallery (New York, NY). He has been the recipient of the Future List Award and two Art Walk Awards from City Arts Magazine as well as the Vermont Studio Center Fellowship Award. His work is featured on the cover of indie rock band Death Cab for Cutie's album Kintsugi and is included in the permanent collections of F5, Fidelity Investments, and the Portland Art Museum. His work has been published in Artforum, Art in America, New American Paintings, Humble Art Foundation, Fukt Magazine for Contemporary Drawing, The Stranger, and The Seattle Times. Rudko lives and works in Seattle, WA. Website.
---
February 18, 2020

---
February 21 - 23, 2020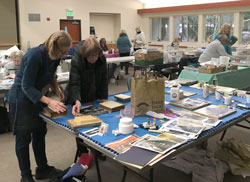 Our 9th annual Northwest Collage Society members retreat at Warm Beach Camp located outside of Stanwood, WA is scheduled! Join us from Friday lunch through Sunday lunch at a spacious facility with plenty of room to create and mingle. Download sign-up form for more details.
Retreat registration form and payment details

---
April 18, 2020

Mita Mahato is a Seattle-based cut paper, collage, and comics artist, whose work explores the transformative capacities of found and handmade papers. Using collage and paper-making techniques, she builds multivalent images and stories that center on issues related to loss—including loss of life, identity, habitat, and species. Her cut paper comic "Sea" was recognized by Cartoonists NW as 2015's "best comic book" and a selection of her poetry comics, collectively titled In Between, is out from Pleiades Press. She is the Associate Curator of Public and Youth Programs at the Henry Art Gallery, serves on the board for the arts organization Short Run Seattle, and teaches classes with various community organizations.Visit Mita's Website

---
June 16, 2020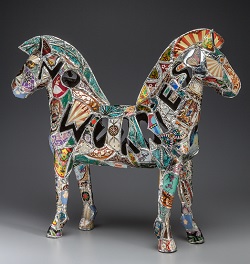 Kathy Ross has been a full time self-employed artist since 1978. She has pursued many materials (99% sculptural) and is currently working in these areas:
1. Map/book-collaged and bejewelled figures and clothing pieces (which look wearable, but aren't). The basic method: make a framework; cover with paper. After that, these sculptures can sometimes become armatures for embellishment/encrustation/adornment with all kinds of shiny/strange found objects.
2. Found tea/cookie tins (cut up and soldered) to make sculptures like the tin figures, heads, vehicles, houses, globes. "I like cookie tins for the colours, and the way the sculpture and the surface treatment are one process. The challenge of making something flat behave like something 3-dimensional." Visit Kathy's website