Programs and Events for 2018 - 2019
General meeting dates and scheduled programs for 2018 - 2019. Meetings are held at the Richmond Masonic Center in Shoreline, just north of Seattle.
---
February 19, 2019 - Tuesday, 10:30 am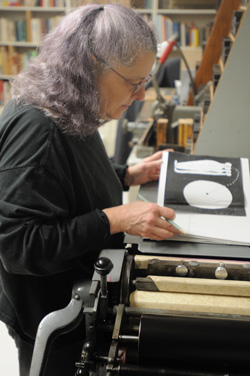 For Bonnie Thompson Norman books are a passion and a profession. She has been proprietor of The Windowpane Press, a letterpress printing and book arts studio, for nearly forty years as well as working as a hand bookbinder in a commercial bindery for about twenty years. Evenings and weekends, she teaches classes in printing and bookmaking. Her studio has many things found in a traditional print shop and bindery as well as a wonderful library. Work produced at The Windowpane Press reflect concerns about timeless and/or contemporary issues, offering challenging questions, provacative puns and inspiration in the form of broadsides and artist's books. These pieces are included in institutions and collections throughout the United States and in New Zealand, France and England. View website.


---
February 22 - 24, 2019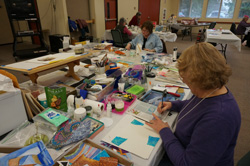 Our 8th annual Northwest Collage Society members retreat at Warm Beach Camp located outside of Stanwood, WA is scheduled! Join us from Friday lunch through Sunday lunch at a great facility with a large spacious conference room. Download sign-up form for more details. If you have further questions contact Stacy at stacyhamm@ymail.com
---
April 16, 2019 - Tuesday, 10:30 am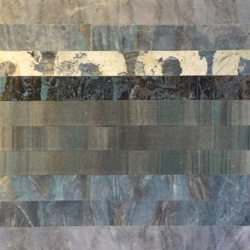 An Encaustic Printmaker, Victoria embraces the Japanese wabi-sabi theory (or "perfectly imperfect") in her abstracted collages and landscapes. The natural by-product of wrinkles, spots and blobs by working with melted wax are welcomed elements in her work, along with line, pattern and texture. A right brain – left brain thinker, her work is a combination of active detail along with calm atmospheric fields. Her collage work may include encaustic prints, calligraphic strokes & mark-making, paper ephemera, book spines and her own abstract photographs. Visit her website.
---
June 18, 2019 - Tuesday, 10:30 am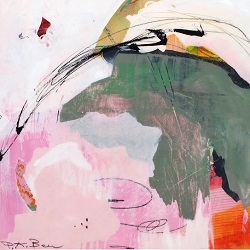 While not classified as a collage artist, Pam's work may contain elements of collage because anything goes when the creative process begins. Pam creates her own patterns, stamps, and colored papers for application during the process as needed.
Representational or whimsical work begins with pattern and shapes that feel good. At times, a vague notion for the theme of the work is present when working in series. Inspiration may not only be color and pattern; but ideation, personality, and feelings.
Most abstract work develops through a process of layering and textures, structure and looseness, lights and darks, and often a subtracting of layers until the visual dialog becomes stronger and the story solidifies.
Visit her website to see more.