Programs and Events for 2017 - 2018
General meeting dates and scheduled programs for 2017 - 2018. Meetings are held at the Shoreline Center just north of Seattle.
September 19, 2017 - Tuesday, 10:30 am

"I am a salvage artist. I am drawn to the beauty as well as the destruction of the natural world. My style, my aesthetic, is much like an historian or archaeologist, to preserve what I unearth: beautiful penmanship, old love letters, a workman's tool. There's a Japanese word, Mottainai, meaning 'too good to waste,' so salvaging the past is important to me. These bits of ephemera, some centuries apart, are combined to create a new history."


Colleen is an encaustic/mixed media, collage and assemblage artist. Her work incorporates many materials including antique documents, books and found objects. Her paintings and assemblage have been published in books and she has exhibited her work throughout the Northwest. Colleen lives in Seattle and is a founding board member of MAX- Magnolia Art Experience, where she teaches encaustic painting, as well as teaching her own Wax and Wine Workshops in the Walla Walla Valley.
See more at www.colleenemonette.com
November 18, 2017 - Saturday, 10:30 am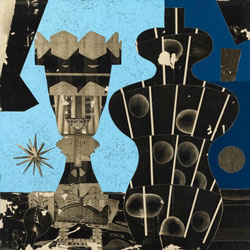 I am constantly in search of those ideas that can be pushed in multiple directions and still push back. I want to be challenged in such a way where the evolution of ideas flow, keeping me excited to stay in the studio day after day. I change media regularly and process each to a point where I feel proficient. This helps ideas feel fresh and uncharted. Each new material requires unique allowances; I want materials to guide the work toward what it is going to be, while maintaining a consistent language across media. I believe that by allowing only a few variables to exist the materials are forced to reveal their nuances. This permits my personal vocabulary to speak louder, conducing cross-pollination between media, where ideas, discovery and surprise reign supreme.
See more at www.roberthardgrave.com
Member's Choice Challenge theme for November is "Gratitude"
$25 cash award!
Parameters: Bring your 4"x6" collage mounted on 8"x10" white 4-ply mat board Unsigned on front of collage Signed on back of mat board to the November 18 meeting.
Attention should be given to overall good design cohesiveness, focus and imagery correlation of lights and darks.
Keep an open mind and challenge yourself to create a small artwork.
February 20, 2018 - Tuesday, 10:30 am

See more at Warren's Website
April 17, 2018 - Tuesday, 10:30 am

June 19, 2018 - Tuesday, 10:30 am