Programs and Events for 2017 - 2018
General meeting dates and scheduled programs for 2017 - 2018. Meetings are held at the Shoreline Center just north of Seattle.
November 18, 2017 - Saturday, 10:30 am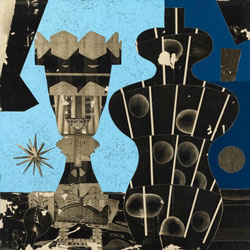 I am constantly in search of those ideas that can be pushed in multiple directions and still push back. I want to be challenged in such a way where the evolution of ideas flow, keeping me excited to stay in the studio day after day. I change media regularly and process each to a point where I feel proficient. This helps ideas feel fresh and uncharted. Each new material requires unique allowances; I want materials to guide the work toward what it is going to be, while maintaining a consistent language across media. I believe that by allowing only a few variables to exist the materials are forced to reveal their nuances. This permits my personal vocabulary to speak louder, conducing cross-pollination between media, where ideas, discovery and surprise reign supreme.
See more at www.roberthardgrave.com
Member's Choice Challenge theme for November is "Gratitude"
$25 cash award!
Parameters: Bring your 4"x6" collage mounted on 8"x10" white 4-ply mat board Unsigned on front of collage Signed on back of mat board to the November 18 meeting.
Attention should be given to overall good design cohesiveness, focus and imagery correlation of lights and darks.
Keep an open mind and challenge yourself to create a small artwork.
---
February 20, 2018 - Tuesday, 10:30 am

See more at Warren's Website
---
February 23 - 25, 2018

Our seventh annual Northwest Collage Society members retreat at Warm Beach Camp located outside of Stanwood, WA is scheduled! Join us from Friday lunch through Sunday lunch at a great facility with a large spacious conference room. Download sign-up form for more details. If you have futher questions contact Stacy at stacyhamm@ymail.com
Pay by December 29th for discount
Pay now with Paypal

---
April 17, 2018 - Tuesday, 10:30 am

---
June 19, 2018 - Tuesday, 10:30 am